(Originally uploaded December 25, 2017)
Lela and Ginger in 1935
Many young people come to Hollywood in hopes of achieving their dreams, however, very few come to help others. Upon winning an important essay contest, Lela Rogers traveled to California to become a playwright, but soon used her experience and influence to give opportunities to people who otherwise would have had none.
Lela was no stranger to acting and script writing. She first came to Hollywood in 1915, where she played a vital role in writing scenarios for popular stars of that time such as Baby Marie Osborne and sex symbol Theda Bara. She secured a great deal of experience under her belt, and gained many influential friends in the business. By the time she was back in Hollywood 15 years later, with a young daughter who had her heart set on the movies, Lela was a powerful force behind the scenes.
Lela with Joan Fontaine
Apart from being Ginger's manager and offering important guidance in her career, Lela also became a prominent figure in the professional lives of many young, up and coming stars of the 1930's. As Ginger herself was beginning to receive her own big breaks in motion pictures, Lela was helping others attain theirs. In the early 1930's, Lela closed the deal on a lease at the original Church of St. Mary of the Angels located in Hollywood. The idea was that she would coach young hopefuls and put on quality productions intended for talent scouts. And this didn't only apply to actors. Her theater would also hire aspiring playwrights, producers, and directors.
In early December of 1933, Lela's Little Theater, which she called "Hollytown," opened with the production "Even As Heathens," directed by Lela herself. The play starred actress Betty Furness, who was playing bit parts at RKO. This show helped Betty get noticed, and pretty soon she was picked up and put under contract at MGM. Similarly, Ginger's cousin, Phyllis Fraser, appeared in Hollytown's production of "Man of Ideas" in August of 1934, which would later secure her with a contract at RKO.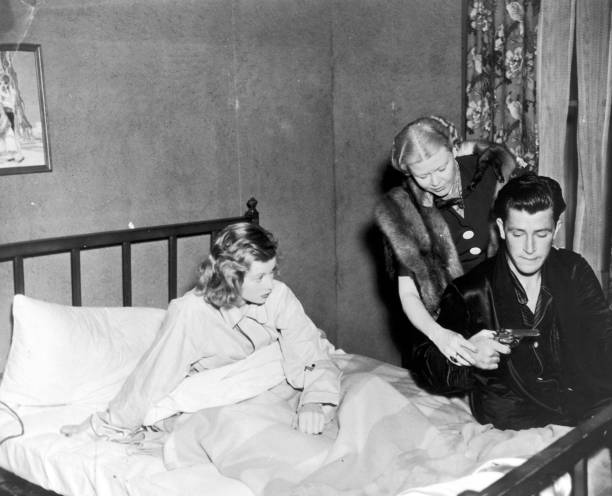 Lela coaches John Shelton and Lucille Ball in a Hollytown play
Lela dedicated these years to guiding many young actors and playwrights to get ahead in their careers, and became a private coach to many big names who would thank her many years later for their success. Among these pupils were Joan Fontaine, Betty Grable, and perhaps most notably, Lucille Ball. Lucille recalled in 1943,
"Lela taught simple elementary things at first, like how to talk, and walk, and all the things that help a girl to be sure of herself. Most of all, she taught us how to use our minds to overcome our self-consciousness."
Lela Rogers, Albert Ottenheimer, and Betty Grable in 1935
It was a lesson of mind over matter.
"I gave my students a philosophy of life. Universal love was their first lesson, otherwise, how could they draw audiences to them, develop the magnetism which must be a part of every great player? I trained their minds, and taught them to think so that their eyes show what is within. The body follows a trained mind naturally."
-Lela Rogers, 1945
This coaching followed her students throughout their careers and lives, and while many of them may have fondly looked back on those memories, it was Lucille Ball who most often publicly thanked and cherished the time spent and lessons learned with Lela Rogers.
In 1935, two years after its opening, Lela sold the lease to Boris Petroff and Jim Timony, two of Mae West's advisers, who were interested in investing in theatrical endeavors. The reputation of Hollytown wavered when Lela stepped down, as the crew of one of Timony's 1936 productions was denounced for its indecency. However, Lucille Ball, who by the late 1950's was co-owning RKO Studios with husband Desi Arnaz, and whose fame had skyrocketed her to becoming the most celebrated woman on television, reactivated the Little Theater, transforming it into the Desilu Workshop. She was following in Lela's footsteps, with the ultimate goal of guiding young stars to fulfill their potential, and pass on the valuable career and life lessons that Lela bestowed upon her and others at Hollytown more two decades before.
Lela Rogers created a safe haven for struggling, amateur performers and playwrights to assist them in showcasing their true talent, ambition, and dedication to their craft. By doing so, she paved the way for these pupils to catch the attention of talent scouts from major studios. These lessons left a lasting impact on aspiring stars who came to apply her techniques to their performances, which progressed their growth as artists who would come to make names for themselves. Her teachings will never be forgotten. They will forever live on in motion picture history carried forward by the stars who benefited greatly from them.
Lela and Ginger in 1941
© Saga of Ginger and sagaofginger.blogspot.com 2018 Unauthorized use and/or duplication of this material without express and written permission from this site's author and/or owner is strictly prohibited. Excerpts and links may be used, provided that full and clear credit is given to Saga of Ginger and sagaofginger.blogspot.com with appropriate and specific direction to the original content.
This work is licensed under a
Creative Commons Attribution-NonCommercial-NoDerivatives 4.0 International License
.